Here at Lightning Training Solutions, a lot of planning and organisation goes into all of our Child First Aid Courses, whether we are running them at a local centre here in Yeovil, or as a blended training session.
Also known as Paediatric First Aid, these training courses are massively popular for staff who work in the childcare sector, which includes babysitters, nannies, pre-school workers and even sports and leisure staff.
What Is The Role Of A Paediatric First Aider?
A qualified Paediatric First Aider aims to preserve life, prevent a child's condition from worsening, and to promote recovery.
To achieve these aims, the Paediatric First Aider needs to be able to assess the child's condition and surroundings quickly and accurately, understand what action needs to be taken, and implement treatment confidently.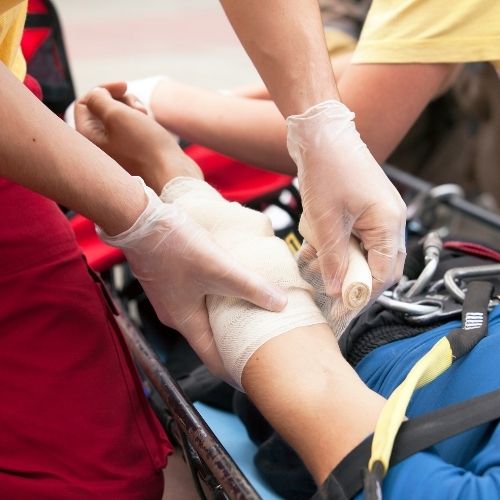 What Do Your Child First Aid Courses Cover?
Although the Early Years Foundation Stage framework (EYFS) recommends a 12-hour course for those working with children, we offer a 6-hour course that covers all of the essential topics and is ideal for those who have less time or who want a more concise Child First Aid Course.
We recommend blended learning in this instance.
Some of these key topics include:
Anaphylaxis
If a child suffers from anaphylaxis, they must receive treatment as soon as possible, as it can be a life-threatening condition.
Our courses will teach you how to administer the necessary medication and provide CPR if required.
Asthma
Again, this is a condition that can rapidly deteriorate, so those who work with children must know how to recognise the signs of asthma, and administer treatment.
In the UK, 1.1 million children (1 in 11) suffer from Asthma.

Asthma UK, Asthma facts and statistics
Bleeding Control
Whether it is a nosebleed or a more serious bleed, our Child First Aid Courses will show you how to control the bleeding and dress the wound correctly.
Burns
There are different types of burns, and each one needs to be treated differently. You will learn how to identify the type of burn and what first aid measures need to be taken.
Choking
If a child is choking, it can be a very frightening experience for both them and those who are with them. Our Paediatric First Aid Courses will give you the confidence to act quickly and efficiently to remove any obstruction.
CPR
One of the most important skills that you will learn in our Child First Aid Courses is CPR. This can be the difference between life and death, so you must know how to do it correctly.
Foreign Objects in Eyes, Ears or Noses
If a child has something in their eye, ear, or nose, it is important to remove it quickly and safely. Our comprehensive Child First Aid Courses will show you how to do this without causing any further damage.
Fractures
If a child has suffered a fracture, it is important to immobilise the affected area as soon as possible. Our courses will show you how to do this correctly.
Head Injuries
A head injury can range from a bump to a more serious injury, so it is important to know how to deal with them correctly.
We also cover other topics such as diabetes, seizures, and shock in our Child First Aid Courses, so you can be confident that you will know what to do in any situation.
What Age Covers A Child First Aid Course?
Most experts agree that a child is anyone under the age of 18, therefore, this means that if you are working with children in any capacity, whether it is in a school, nursery, or as a babysitter, you or your business will need to have a valid form of Child First Aid.
Why Is It Necessary To Have A Separate Course For Paediatric First Aid?
While some of the basic principles of first aid are the same for both adults and children, some key differences mean a separate Child First Aid Course is necessary.
For example, a child's skeleton is much more pliable than an adult's, so the techniques for dealing with a break are different.
In addition, a child's airway is much narrower, so they are more susceptible to choking.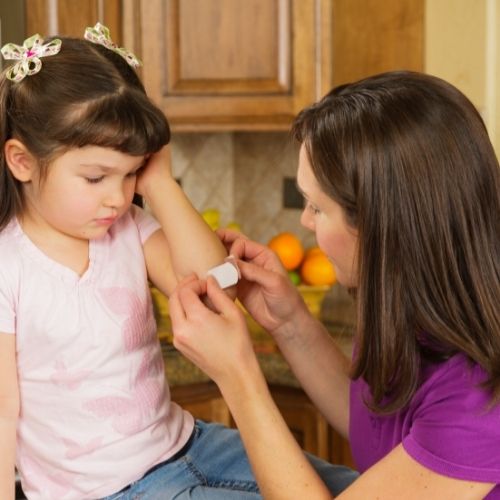 How Long Does A Child First Aid Course Take?
Our Child First Aid Courses run for two days, but you can opt to enrol on this as a blended course if you wish.
A blended Child First Aid Courses gives you more flexibility because you can study part of your training online, with the remainder undertaken in a classroom setting.
Our Child First Aid Courses cover everything from burns to bleeding, minor injuries and first aid kits.
Child First Aid Regulations
Schools and nurseries must adhere to strict first aid regulations to fulfill Ofsted EYFS requirements.
From a legal standpoint, schools and nurseries need to be able to prove that they have made appropriate first aid provisions.
EYFS, which stands for Early Years Foundation Stage, requires that at least one person who has a current Paediatric First Aid ( PFA ) certificate should be on the premises and available at all times when children are present and should accompany children on outings.
Why Choose Lightning Training Solutions?
At Lightning Training Solutions, we are passionate about delivering high-quality training that meets the needs of our students
All of our instructors are highly experienced and qualified, and they will always go above and beyond to ensure that you get the most out of the course.
We understand that everyone learns differently, so we use a variety of methods to deliver our courses, including practical demonstrations, group work, and individual tasks.
We also offer competitive prices without compromising on quality, and we can tailor our courses to meet your specific needs.
Contact us today, or give us a call on 01935 473575