This course not only raises fire awareness and dangers associated with it, but offers guidance to practical steps that can be taken to minimise and control the risks of fire.
The objective is to highlight the importance of reducing and controlling fire risks and if necessary, escaping safely in the event of an outbreak of fire.
This course includes fire marshall/warden training, fire awareness and live fire extinguisher training.
If you're reading this as a business looking for staff to enrol on an open course, this should be done annually to satisfy legislation and stay up-to-date.
The First open course date is 28th July 2021.
Fire Safety Awareness Training
The first part of our open course involves raising awareness of the dangers that fire can pose, along with some practical steps that businesses and homeowners can take to minimise and control the risks that fire presents.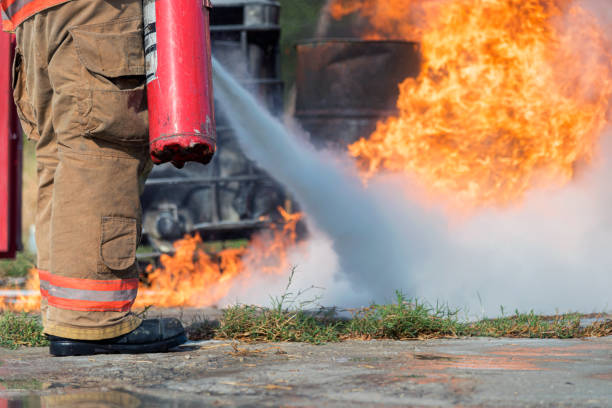 This covers the most common incidents that fire can cause, legislation applicable to non-domestic premises such as construction sites and general work activities that could involve fire, including:
The common causes of a fire
The behaviour of fire and how it spreads
Fire prevention
What to do if a fire breaks out
How to use fire extinguishers and the types
Emergency evacuation procedures
The main objective of this course is to learn how to reduce fire risks, deal with fires and if necessary, escape safely in the event of a fire breaking out.
Fire safety awareness training is designed to satisfy the training and awareness requirements of relevant legislation and regulations including the Regulatory Reform (Fire Safety) Order 2005 and the Health and Safety at Work Act 1974.
Fire Marshal/Warden Training
An important part of fire safety is having a designated person as a fire marshall/warden who works together with the employer to make sure safety measures and evacuation procedures are in place and effective at all times.
Fire marshall training is also suitable for landlords and multiple occupancy buildings should this be identified in a fire risk assessment.
Enrolling on this course will provide the necessary training to be a qualified warden/marshall where you will learn about legal duties, an understanding of fire, become familiar with hazards and firte safety arrangements and what evacuation procedures should involve.
All the information learnt in this course will enable you to take responsibility for fire safety and protect lives in the event of fire.
Areas covered include:
Action on discovering a fire
Common causes of fire
Fire drills and evacuation
Fire safety legislation
Fire safety precautions
The chemistry of fire
The role of fire marshal
Using fire extinguishers
The Law
The Regulatory Reform (Fire Safety) Order 2005 covers general fire safety in England and Wales.
In the majority of premises, local fire and rescue authorities are responsible for enforcing this fire safety legislation.
Every business must have a designated 'Responsible Person' whose job it is to makes sure certain duties are carried out, and that action is taken to both prevent fires and prevent injury or death if a fire actually occurs.
Furthermore, all businesses must have a Fire Risk Assessment and a written record must be kept of your fire risk assessment if your business has 5 or more people.
*Courtesy of the Cheshire Fire & Rescue Service, this video highlights key areas surrounding the Regulatory Reform (Fire Safety) Order 2005.
Live Fire Extinguisher Use
Each course include 'live fire extinguisher use' where you will not only learn about the different types and uses, but actually get hands-on training which is hugely beneficial should you ever need to operate one in a fire.
Fire extinguishers are a very important element of fire safety and, in commercial and industrial properties, are often required by legal health and safety regulations.
Our live training includes the six types of fire extinguishers.
Fire extinguishers can effectively put out 80% of all fires.
Course Prices
The cost per person per course is £35 + VAT.
This includes:
Fire Awareness Training
Fire Marshall/Warden Training
Live Fire Extinguisher Use
*Once our course is open for bookings, there is a limit of 15 places available. To register your interest in this course, please email us at enquiries@lightningtrainingsolutions.co.uk.
FAQ's
Below we've answered some of the most common fire safety questions, however, if you do have any queries related to enrolling on one of our open courses, please do not hesitate to contact us by email (enquiries@lightningtrainingsolutions.co.uk) or by phone on 01935 473575.
What does the course cover?
Each course covers Fire Awareness, Fire Marshall/Warden Training and Live Fire Extinguisher Use.
How is the qualification assessed?
Expertly delivered in-house, each participant will sit a questions paper and will receive a Fire Marshall Certificate and CPD (see here).
What are the entry requirements?
You must be over 18, but are no entry requirements for this qualification per se. However it is important that learners have a suitable standard of English language in order to understand the course material.
Once qualified, how long does this last?
The Fire Marshal Certificate is only valid for three years. After this period, you can either take another Fire Marshal Training Course or a shorter refresher course.
Can this course be taken online?
Yes! Although our online e-course is split into three section; Fire Awareness, Fire Marshall Training and Fire Extinguishers Use which can all be found in our online course library here. However, participating in our open course is more cost-effective, and you will be given a more hands-on approach which is much more beneficial.
Is Fire Awareness Training a legal requirement?
Absolutely. Fire Awareness training is applicable to absolutely everyone within a workplace; irrespective of the industry sector. Under the Fire Safety Order 2005, it is a legal requirement that every member of staff receives some kind of workplace fire safety training.
What exactly is fire awareness?
Awareness is the key to prevention. Everyone at work has a duty to prevent fires. A fire safety culture is based on a shared set of positive attitudes, knowledge, perceptions and beliefs about fire prevention and fire protection.
In a workplace, who is responsible for fire safety?
In a working or non-domestic environment, the person responsible for fire safety is the person in control of the premises, which is why it is hugely important to have a fire marshall/warden who is properly trained.