At Lighting Training Solutions HQ, we receive many queries from employers relating to the type of training that is required of first aiders in the workplace.
Firstly, there are two types of First Aid course:
First Aid at Work (FAW )
Typically a three day course.
Emergency First Aid at Work (EFAW)
Usually a one day course.
In the HSE 2013 First Aid Guidelines for Employers which recommends a first aid needs assessment, this identifies what type of first aid training your first aiders will require, and how many first aiders you need.
Employers should make sure that their first aiders are properly trained and have the correct qualification.
Both FAW and EFAW cover different topics designed to cope with the injuries and illnesses that can occur in the workplace.
To make this much more clearer to employers, we have put together a table below to highlight this.
Please note that this table does not cover ALL the risks, but merely highlights them. You should document specific risks associated within your working environment, together with the potential injuries that may occur.
Topic
First Aid at Work
(FAW – three day course)
Emergency First Aid at Work
(EFAW – one day course)
Unconscious Casualty
✅
✅
CPR
✅
✅
Choking
✅
✅
Wounds & Bleeding
✅
✅
Shock
✅
✅
Minor Injuries
✅
✅
Preventing Cross-infection
✅
✅
Recording Incidents
✅
✅
Use of Available Equipment (such as a first aid box)
✅
✅
Fractures
✅
❌
Sprains/ Strains
✅
❌
Spinal Injuries
✅
❌
Chest Injuries
✅
❌
Severe Burns & Scalds
✅
❌
Eye & facial Injuries
✅
❌
Burns & Scalds
✅
❌
Poisoning
✅
❌
Heart Attack & Stroke
✅
❌
Epilepsy, Asthma & Diabetes
✅
❌
For employers wishing to enrol staff onto our three day (FAW) course, we now offer 'blended courses' which is a mixture of online learning and teaching in a classroom setting
What else should I consider before enrolling an employee onto a first aid at work course?
The list in the above table is not exhaustive.
This is because workplaces like building sites, schools or offices can potentially create many different hazards.
When assessing your workplace, you should consider:
The nature of the work
Hazards & Risks (lifting heavy objects, driving, operating heavy machinery etc)
Number of employees
Work Patterns (Shift work, overnight)
Accident History (Higher risks)
Holiday & Sickness (For those who are alreday qualified first aiders)
Staff Needs (Such as lone workers, working remotely or travelling)
Location (Such as rural where emergency services may take longer)
Shared Workplaces (Where staff may work in mulitple locations)
Provisions (If you work with the public, or the public are on the premises)
Can a member of staff be trained to deal with any mental health issues in the workplace?
As a business, and after carrying out a First Aid Needs Assessment, you may want to train a member of staff who can identify and understand symptoms or simply support someone who may experience mental health issues.
Lightning Training Solutions also offer both a hugely popular Mental Health at Work First Aid Course and a Youth Mental First Aid Course.
For employers who work with young children, we also provide a Paediatric First Aid Course aimed at teachers, childminders, babysitters and day nurseries.
We would suggest keeping an eye out on our events page, as we are always offering places on our open courses throughout Yeovil and Somerset.
Which course benefits my business the most?
For businesses with more than 50 employees, and after carrying out a First Aid Needs Assessment, it's more than likely you are thinking about a three day First Aid at Work course due to an increased probability that illness or injury may occur in the workplace.
The HSE actually recommends that First Aid at Work (FAW) training is provided in workplaces with 50 or more people.
Did you know that an estimated 4,500,000 working days are lost each year due to workplace injuries.
For other businesses, we have created a flowchart to help you assess how many first aiders you may need, and which course is most beneficial to your business.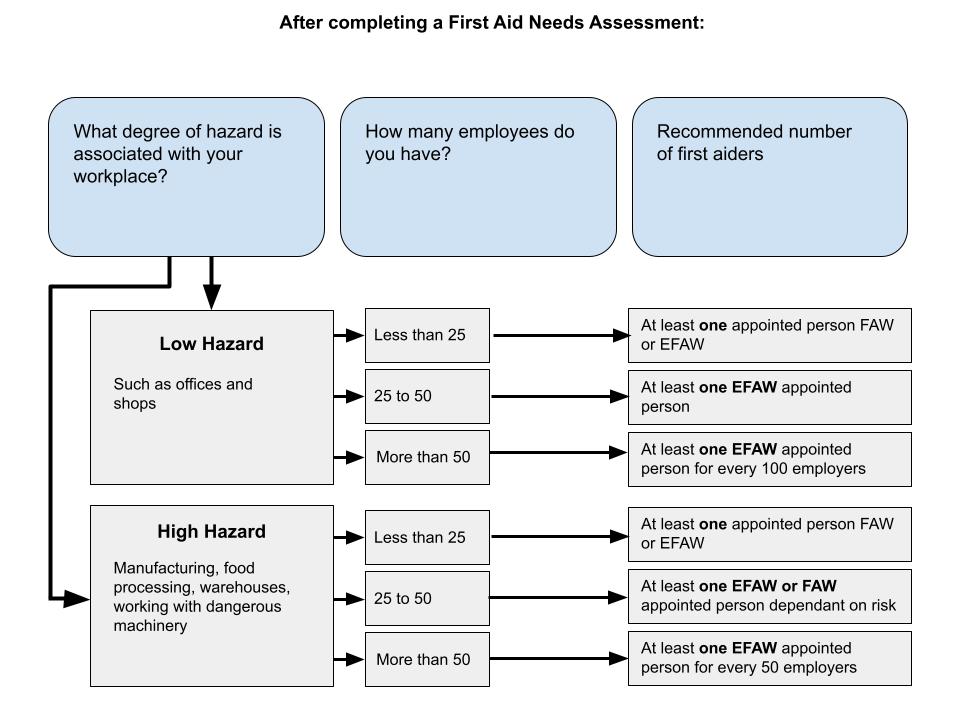 Please note that this flowchart is only to be used as a guide.
After reviewing your First Aid Needs Assessment and you are at the stage of considering enrolling staff onto a FAW or EFAW course, you should also consider:
that any injuries or illnesses that may occur can be dealt with by the number of first aiders you provide
where a first aider may not be fully trained (i.e they have only taken the emergency first aid at work course) if there is a possibility that a more serious accident or severe sudden illness may occur
where there could be employees that have disabilities or specific health problems
employees that travel a lot and work in different environments
employees that work out-of-hours shift patterns
premises that are spread out across multiple locations
remote rural workplaces
planned, or unplanned absence of a qualified first aider
members of the public who could visit your workplace
Are there any specialist first aid at work courses available?
As well as First Aid at Work, and Emergency First Aid at Work courses, we also offer a Paediatric First Aid course, which is a separate qualification and is specific to different workplace settings.
Click here for more info.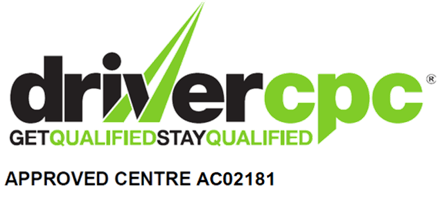 Additionally, we have both a Fire Awareness course and Driver Conflict Management course, which can be taken as part of a DCPD course. One day is split between each topic and may be suitable for some type of businesses.
You contact us below if you would like to know more.
Summary
As you can see, it is very important to carry out a continuous workplace assessment because first aiders may not be trained correctly to deal with a more serious accident, illness or injury in the workplace.
A brief recap of the first aid at work courses, including blended learning, that we offer can be found below.
| Available Courses | Duration | Per Course | Per Person |
| --- | --- | --- | --- |
| Health & Safety First Aid at Work | 3 Days | £1,500 | *£150 |
| Health & Safety Emergency First Aid at Work | 1 Day | £500 | *£50 |
| Appointed Persons First Aid Course | 1 Day | £500 | *£50 |
| First Aid at Work Re-Qualification Course | 2 Days | £1,000 | *£100 |
| Annual Refresher First Aid at Work Course | ½ Day | £300 | £25 |
| Automated External Defibrillation (AED) Course | 3 Hours | £360 | £60 |
For our open courses, please check out our events section here.
Alternatively, we do offer blended First Aid at Work courses. More information can be found here.
If you do have any specific questions related to the guidance within this article, please do contact us below.